1. With the chemistry exam coming, my proffesor told me that I needed to molecule my head.
2. The chemistry professor couldn't see what was inside the beaker as it was Mt (Meitnerium).
3. The entire class decided to bunk the chemistry class. But owning to low attendance, I couldn't afford to mass it!
4. During the chemistry exam, my friend asked me whether I had some sodium hypobromite. I told him, "NaBro."
5. The number of students in my chemistry class is tin.
6. After the fight ensued between the two students on who would win the platinum prize for the chemistry quiz, the quizmaster commented that this was petty. The chemistry teacher corrected him and said, "No, it is PT."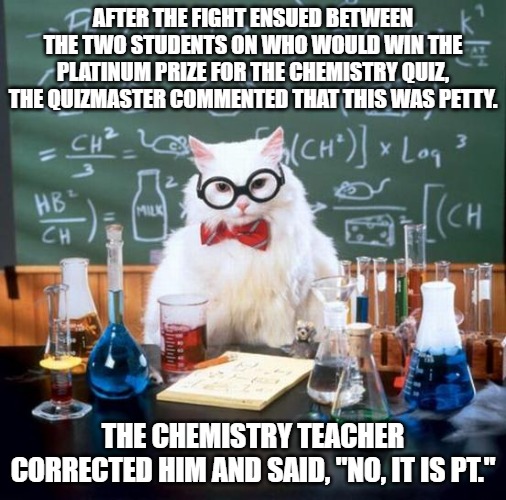 7. The new student who joined our class said, "I was forced to choose chemistry as the other subjects Argon."
8. The chemistry teacher explained to us that boyle's law is the product of volume and pressure because volume won't work under pressure.
9. The class was very roundy, and as a result, the chemistry teacher lost her mole-cule!
10. Chemistry teachers everywhere like to talk about Ammonia while introducing students to chemistry because it is base-ic stuff.